UniSorb® Clay Desiccant – 1kg
$99.00 excl GST
$113.85 incl GST
Suited for machinery, boats, base metals, steel, iron, metal cans, automotive products (car seats, brake linings), electronic and digital equipment etc.
UniSorb® is the new generation of transport protection for the reduction of dew point and control of condensation. UniSorb's® innovative design allows water vapor to enter the interior of the bag easily, where it is transformed into a thick gel and will not leak, escape or spill.
UniSorb® desiccants are manufactured from Calcium Chloride (CaCl2) and clay minerals. The large 1kg and 2kg bags are encased in a fully woven material with sewn seams to offer maximum strength and product consistency. They are then sealed inside DuPont's special Tyvek material to prevent any liquid leakage.
Independent testing by SGS International (at 37° 90% RH) has shown UniSorb® to uptake 100% of its own weight in water, without chloride migration.
1 Kg each sachet
16 sachets per Carton
3-side seal plus hook plus 90% HIC Bag size 200mm x 27mm Non woven
1kg now available with hanging hooks for quicker installation!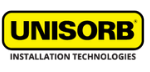 Brand
UniSorb®