Premium Bamboo Toilet Paper – 400 sheet
$65.00 excl GST
$74.75 incl GST
This luxurious toilet paper is very soft, strong and a great value.
Our premium two-ply toilet paper is on a standard roll, but has a massive 400 sheets per roll. Additionally these rolls are very well perforated and edge embossed meaning the paper will tear easily at the intended point and not spiral tear. This product is made from bamboo  and is environmentally friendly. It is nice and soft too. Great for those whose bottom deserves that special comfort.
This item is sold only by the carton. There are 48 rolls in a carton.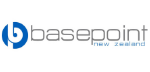 Brand
Basepoint