Petainer Beer Keg 30L
$30.00 excl GST
$34.50 incl GST
At last a keg to reduce your supply chain costs and carbon footprint. 30L D coupling only.
Basepoint have teamed up with the global leader in one-way PET kegs; the petainer range is tailored to the exacting needs of our customers, protecting their products and brand integrity, whilst providing superior economic benefits. The 30l keg is easily and cheapily distributed to your premises for filling. It can be cheaply distributed by courier to your customer with no costly charges for return or cleaning – it is simply recycled. petainerKeg has been designed by experts to meet the highest industry standards for safety and product protection.
Our kegs meet the highest industry standards for safety and product protection and are trusted by the largest brewing brands in the world. One of the key features of the range is its universal compatibility which lowers barriers to entry for one way PET kegs, whether it is beer or cold brew coffee.  The kegs can be filled using a range of different methods and can also be used in retail outlets anywhere in the world. Here at Basepoint we are able to offer the 30L Petainer Keg with D fiitings only.
PetainerKeg also provides up to 40% savings in supply chain costs compared to steel and glass.  For customers who use a preform kit to blow locally, the benefits are event greater as inbound logistics are reduced by over 90%.  Using the petainerKeg system also reduces the expensive administration and deposit systems required to manage and run a steel keg fleet. petainerKeg also improves the environmental performance of operations compared to other packaging formats because the keg eliminates waste water and requires no washing chemicals for each filling and reduces energy usage compared to other substrates.
Need more information? To find out how Petainer can help your business, please get in touch.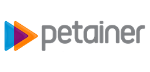 Brand
Petainer