Kraft Noodle Box 26oz (20's)
$6.34 excl GST
$7.29 incl GST
20 x Kraft Noodle Box 26oz
Kraft Noodlebox
Made entirely from plants, our kraft noodle boxes can reduce your carbon footprint by up to 80% when compared to traditional oil-based packaging. Available in a range of sizes, these robust products are leak proof and sturdy with a secure lid lock system.
Our heavy duty Kraft board provides superior quality and increased insulation for our noodle boxes compared to the average kraft board on the market.
We line the inside wall of our product with naturally advanced Ingeo™ bioplastic coating, designed specifically for foodservice packaging. Ingeo™ bioplastic has a significantly lower carbon footprint than the fossil fuel based polymers that it replaces, because the manufacture of Ingeo™ emits fewer greenhouse gasses (GHGs) than the comparable manufacture of all common petrochemical-based plastic1. This innovation of turning plants into plastic allows us to exclude non-renewable resources (such as oil) from the production of our noodle boxes, providing a sustainable plant-based alternative to traditional oil-based products, with a lower-carbon-footprint.
Life Cycle Inventory and Impact Assessment data for 2014 Ingeo™ Polylactide Production. Industrial Biotechnology, June 2015
Commercially Compostable
Oil Free
Ingeo™ PLA Bioplastic
Renewable Resources
Hot content friendly
Cold content friendly
Paper from Managed Plantations
Non-toxic inks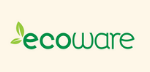 Brand
Ecoware