Envirotuff™ Thermal Liner – 40′ High Cube V6 (with floor)
$650.00 excl GST
$747.50 incl GST
This  Envirotuff™ Thermal Liner – 40′ High Cube V6 (with floor) insulating liner is suitable for all 40ft general purpose ISO High Cube containers and protects vulnerable cargo by insulating six walls inside the container.
Once the container is loaded, the cargo is fully sealed. The floor in the liner ensures that the bottom of the container is well insulated, so that moisture cannot rise through the wooden floor. It also protects the products against unpleasant smells in the container.
Ordering higher quantities give better prices – see the tab Staggered Prices for quantities up to a full pallet.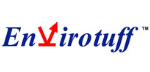 Brand
Envirotuff