Envirotuff™ Thermal Liner – 20′ V6 (with floor)
$360.00 excl GST
$414.00 incl GST
The only product of it's kind in New Zealand!
Across all industries, moving products in shipping containers can expose the goods to severe temperature fluctuations. In many cases this can cause irreversible damage to the product resulting in lost sales, expensive insurance claims and most importantly a loss of customers faith in your product.
Easy to install, the patented Envirotuff liner will prevent container rain and protect your precious goods from extremes of temperature. Choose the world's number 1 thermal protection for your valued goods.
40′ and 40′ Hi Cube versions also available.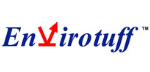 Brand
Envirotuff