Dunnage Air Bags – 90mm x 120mm
$16.00 excl GST
$18.40 incl GST
Fast-fill polywoven bags to secure your load.
JMP Holdings has launched a new range of polywoven dunnage bags. These bags are very durable, light weight and easy to position to fill with air. Coupled with our Fast Fill Inflator Gun and special valve, filling time is dramatically reduced whilst doing so in a much safer manner.
JMP's new valve and inflation system uses the specially designed patented RAI (Rapid Air Inflation) gun, which fills dunnage bags to an exact pressure and then shuts down once this pressure is achieved. This eliminates human guessing as to how much to inflate the bag and ultimately secures your product more safely.
Once inflated, operators also do not need to quickly close the valve to prevent air loss as an automatic valve closure has been installed and seals the bag as soon as the inflator is removed.
The RAI Gun has made JMP Dunnage Bags one of the quickest inflating bags in the world and also has a range of attachments to accommodate the trickiest of packaging configurations and situations.
It is important to fill dunnage bags quickly as to improve a company's productivity however the shut off valve ensures product is not damaged as inflation slows down as the maximum pressure approaches.
JMP's new dunnage bags are approved by the Association of American Railroads.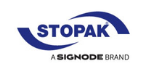 Brand
STO-PAK